CURSO DE ARREGLOS y COMPOSICIÓN // ARRANGING AND COMPOSITION COURSE - Miguel Blanco
CURSO DE ARREGLOS y COMPOSICIÓN // ARRANGING AND COMPOSITION COURSE - Miguel Blanco
Uno de los mejores profesionales de España con más de 30 años de experiencia está impartiendo clases online de ARREGLOS, ARMONÍA Y COMPOSICIÓN desde Junio de 2020 con unos resultados espectaculares.
Grupos reducidos, precios populares.
Nivel: medio / avanzado
El próximo febrero MIGUEL BLANCO abre un nuevo curso. Quedan pocas plazas. Si os interesa tenéis más información en:
www.miguelblanco.net
(haz clic en "CLASES ON LINE").
También podéis contactar directamente por correo electrónico:
compo@miguelblanco.net
y WhatsApp:
(+34) 649 14 48 08
One of the best professionals in Spain with 30 years of experience has been teaching ARRANGING, HARMONY and COMPOSITION online since June 2020 with spectacular results.
Reduced groups, affordable rates
Level: intermediate / advanced
This February 2022, MIGUEL BLANCO is opening a new group.
Few places are left.
If interested contact:
http://www.miguelblanco.net
(clic on "CLASES ON LINE".)
and also by e-mail at:
compo@miguelblanco.net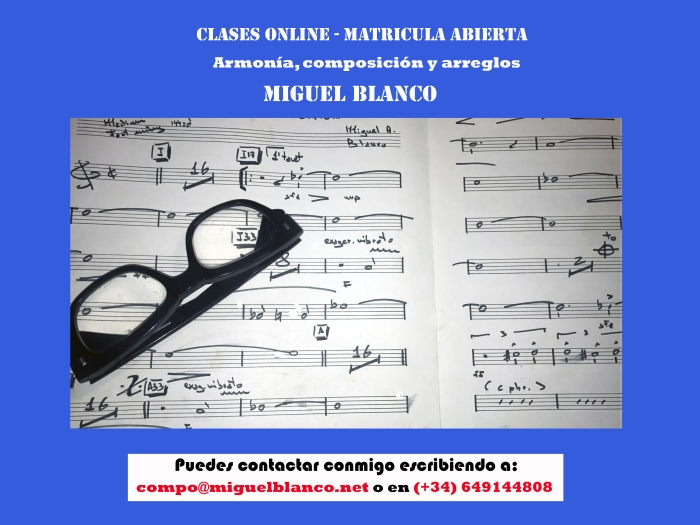 Tu e-mail forma parte de la base de datos propiedad de Youkali Music S. L. que se rige por la normativa establecida en la Ley Orgánica 15/1999, 13 de diciembre, de Protección de Datos de Carácter Personal (BOE 14/12/1999) y en la Ley 34/2002, de 11 de julio, de Servicios de la Sociedad de la Información y de Comercio Electrónico (BOE 12/07/2002). Para dejar de recibir comunicaciones puedes .